DogWatch of the Bay Area & Northern California
It's all about your dog!
Troy Dykes is the founder and operator of DogWatch® Hidden Fences of the Bay Area and Northern California: "We realize there are several brands to choose from when considering the purchase of a pet containment system. We'd like to thank you for taking the time to research your choices before deciding upon the best training product for your dog. We have been in business since 1996 and have tried and tested ALL brands in this industry.
We know and understand our competition, whether it's a store-bought DIY kit or a professionally installed brand. We represent DogWatch® because we found it to be a versatile, quality-constructed product line superior to other makers with such features as the FM Safelink design, 2 year receiver collar battery life (versus the 3 to 4 month battery life of the competitors'), and a user-friendly transmitter. We offer sales, installation, training and service of all DogWatch® products in a timely, professional manner.
We'd love to discuss the safety and benefits of the DogWatch system with you. We can offer advice about creating a proper boundary or barrier, and detail the installation, training and costs involved. We can help with behavioral and obedience issues, too. We'll gladly provide product/warranty/guarantee information, contractor's license & bond information, letters of reference and 100-200 names of local clients. You'll be able to make a well-informed decision based upon facts, not bravado.

We are a true family-owned and operated small business. We do not hire contract labor. Our territory is large; we service the Monterey, San Francisco Bay Area, Napa/Sonoma, Sacramento, Sierra foothills, and Truckee/Tahoe markets. We are committed to great customer service, but we do not rely on service revenue. We prefer to install the DogWatch® system with quality work and heavy duty-grade materials. For that reason, we do not claim to be price competitive with other companies. On average, we are typically more expensive initially. But we guarantee that we are the best long-term value due to minimal equipment, wiring, and battery maintenance and/or replacement costs. If you're looking for a company that uses odd sales tactics, or a company where you won't talk to the same person twice...we're not the company for you. But, if you're looking for personalized and timely service, superior products, and honest business practices-give us a try. You won't be disappointed. We hope to have the opportunity to help keep your pet safe."
We are "Simply the Best...No Getting Around it™"

"If you can find a more technologically advanced pet containment system that surpasses our user-friendly safety features, we will reimburse you twice the purchase price and installation fees."


Service Area
We provide services to customers in the SF Bay Area, Monterey/Carmel, Napa/Sonoma, Sacramento, Truckee/Tahoe/Reno area, including the towns and cities of Atherton, Carmel, Danville, Gilroy, Hillsborough, Lafayette, Lake Tahoe, Los Altos, Los Gatos, Marin, Menlo Park, Monterey, Napa, Oakland, Orinda, Pleasanton, Portola Valley, Reno, Sacramento, San Francisco, Santa Cruz, Truckee and Woodside, CA and the surrounding area.
Get a Free In-Yard Estimate!
Our representatives will meet you at your home for a free in-yard estimate. We will help assess your needs and customize a solution that suits both you and your pet. Call today or schedule an appointment to get things started!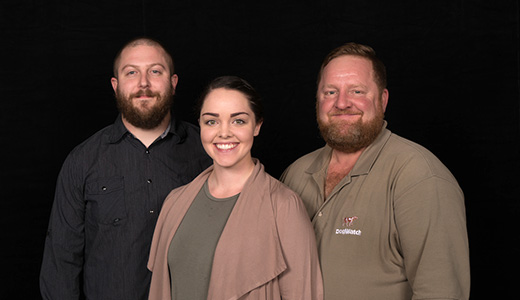 Why Choose DogWatch of the Bay Area & Northern California?
1. Our number one concern is the safety and well-being of your pet. We provide the support you need to ensure successful training and happy containment.
2. We provide a proven PetFriendly™ training program. We train your dog (or cat) to recognize the boundary flags and the audible warning signal (or vibration) before introducing the correction.
3. We are experienced professionals committed to providing excellent customer service and support. We strive to service every customer promptly and courteously.
We want to hear about your experience! Write us a review on Google+
Simply the best. No getting around it.™
Another reason to choose DogWatch of the Bay Area & Northern California is that we are an authorized DogWatch dealership. The DogWatch Hidden Fence is the most technologically advanced and the easiest to use, and it is backed up by a no-hassle Lifetime Warranty from a company with more than 25 years of keeping pets happy and safe.

What makes us Simply The Best?
---
Customer Testimonial
Troy is not only an absolute expert in visualizing the grounds, and knowing the best way to maximize effectiveness for the safety of your pet, he is also cost-conscious and provides solutions that actually save you money! He is a true lover of dogs/pets too, so you  know you're in good hands.
Christian L., Menlo Park