5-Year wiring warranty against rodents, wildlife and water corrosion.
Burrowing rodents like moles, voles and gophers love to chew on buried wires in our region. In the past we've encountered deer, skunk, rat, rabbit and squirrel damage, too. We now purposely use high-grade, thick-walled direct burial wire and flexible conduit or tubing to ensure we maintain our boundary signal's integrity. Entrust us to keep your pet(s) safe at home and we'll provide a five-year wiring workmanship warranty against rodent chews, animal damage and water or corrosion issue.
Did you know you can trade in  your existing system for a DogWatch Hidden Fence?
Read more about our Trade-In Opportunities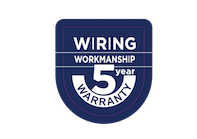 Like what you see?
Contact us today to get things started!